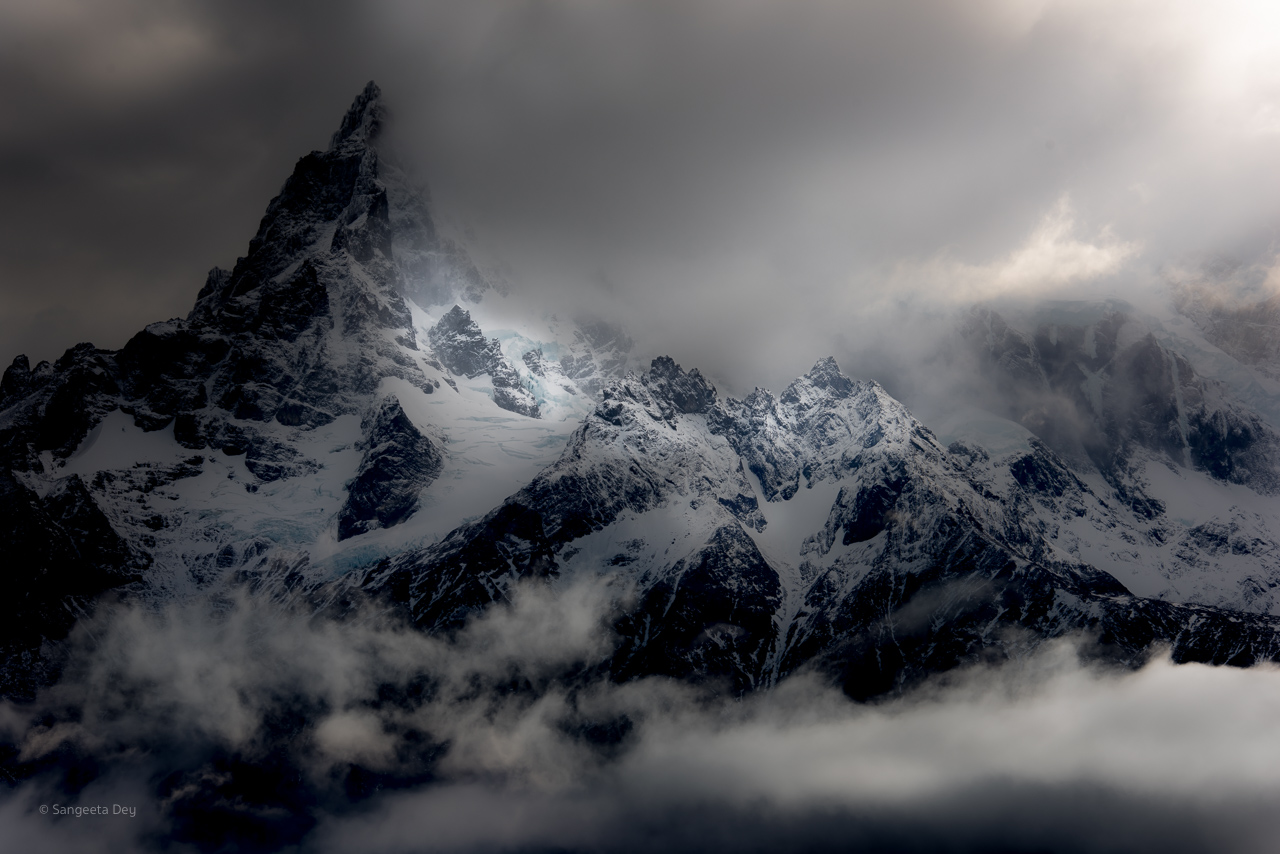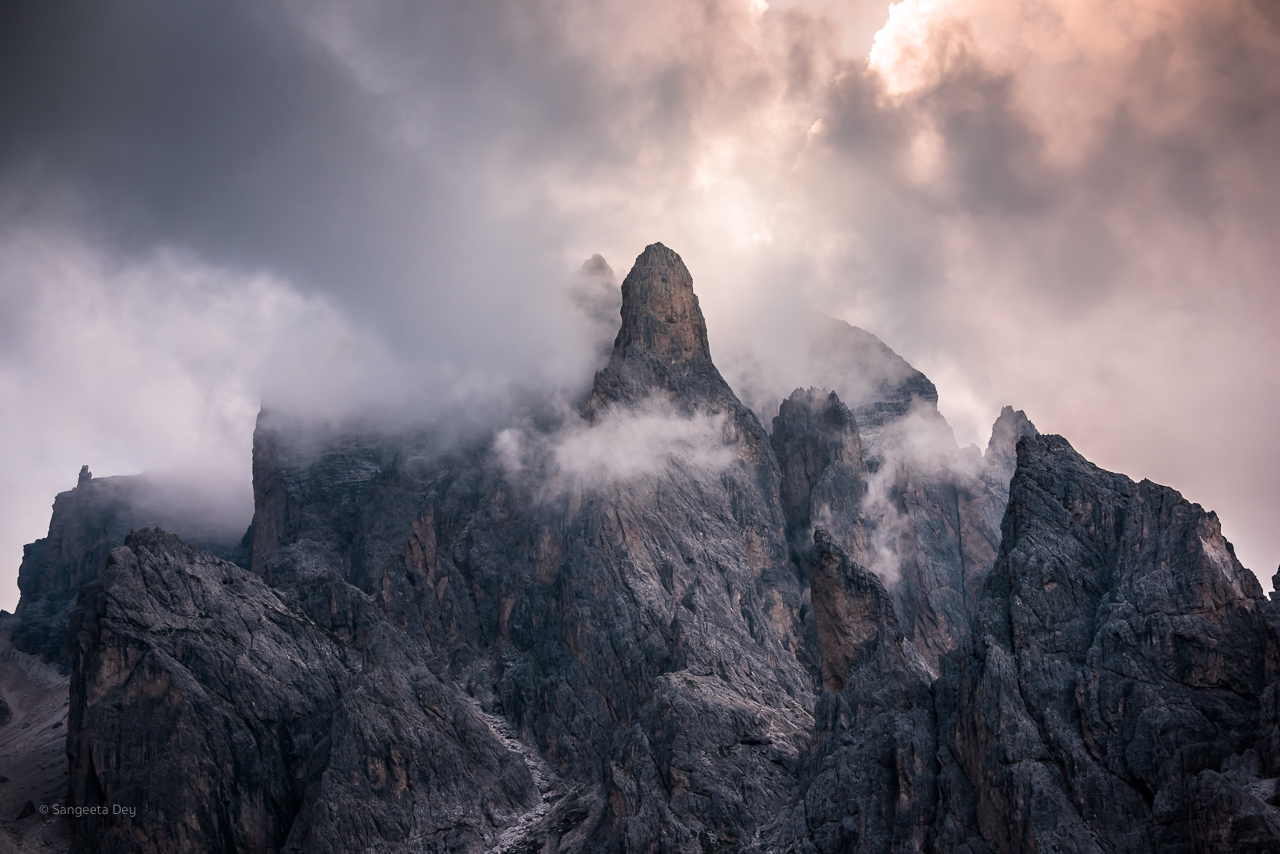 The Temple
This is one of my favorite moments from our trip to Patagonia. We were on our way to dinner after a boat trip. When we turned around to look back at the boat to make sure everyone was off the boat, we notice this scene unfolding in the distance. This was one of those beautiful moments that I cannot think of anything but a gift from some higher power. The ethereal light of the setting sun was falling on fog and clouds that were dancing around the peaks. The entire place had an aura that was very powerful and spiritual at the same time. If God has a home, this is how I imagine it looks like.
Crescendo
Torres Del Paine National park in Chile is full of rugged and raw beauty. It is a land of lakes, rivers, waterfalls, glaciers and some of the most impressive jagged mountain peaks. As you enter the park, you are surrounded with these impressive peaks in all directions, but nothing captures the power of these majestic mountains more than the peaks of Cuernos del Paine. Driving inside the park, I felt like a beautiful rhythm was building up reaching a crescendo with these powerful peaks presenting themselves in front of us. The interplay of fog and clouds around these peaks created a divine atmosphere that had a trance-like quality.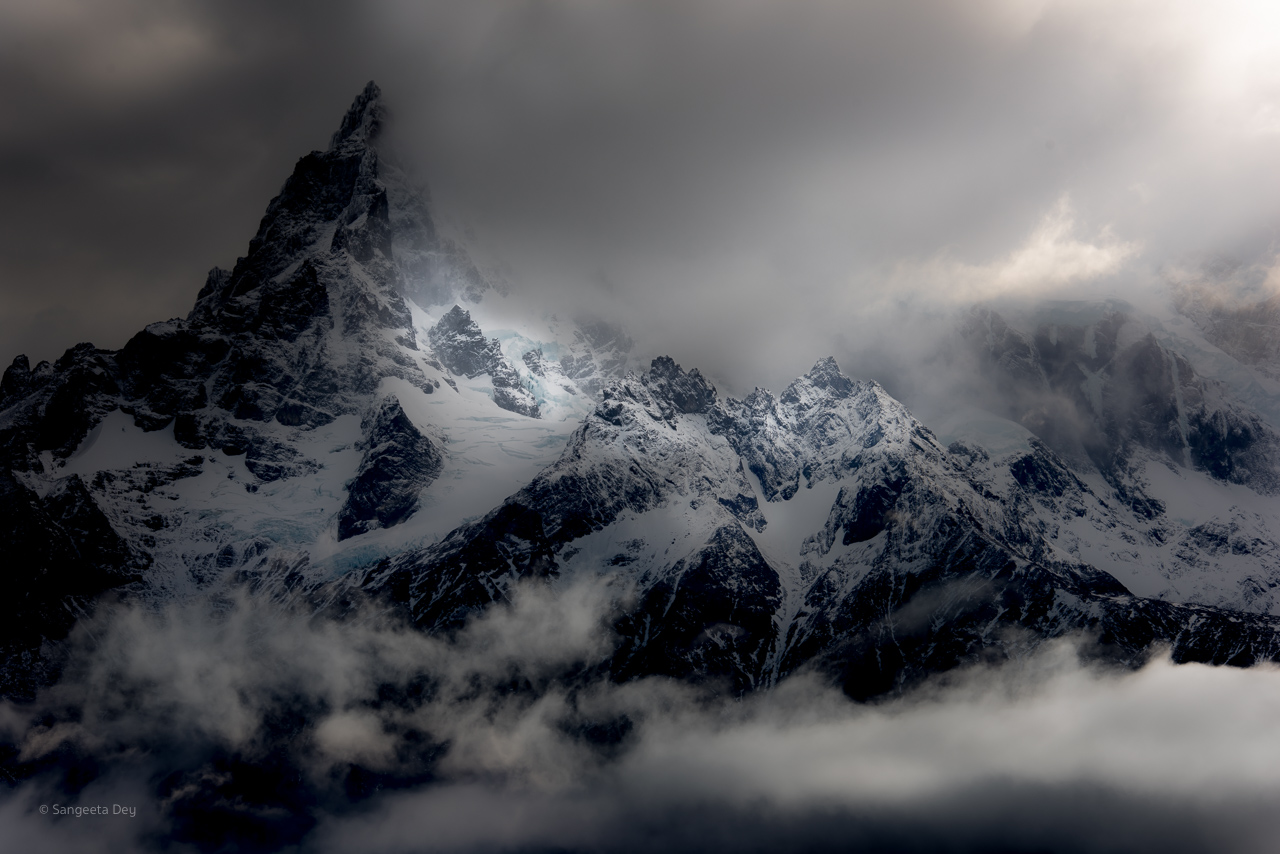 Songs from the void
In his book, The Ground Beneath Her Feet, Salman Rushdie had said, a photograph is a moral decision taken in one eighth of a second. Here is one of those decisions captured in Patagonia.
Amor
The combination of dancing clouds and sun is a classic love story in my photographs. In the absence of everything else, just these two factors can produce some magical results.
Third Eye
The light that shines right after sunrise or before sunset is referred as the Golden Hour in photography. This time is also referred as the magic hour as the soft light during this time can magically transform the character of any landscape. It is this same light that can cause the rare phenomenon of Firefall or emphasize the beauty of powerful mountains. The photograph here was taken during that beautiful time of the day when the sun was low in the horizon creating an interplay of light and shadow.
Towers of Mystique
On the last day of my Patagonia trip, I decided to do something that was kind of "touristy." We decided to go on a boat trip to see the Grey glacier. This is the same glacier that I had hiked in 2002, but never took the boat tour on Lago Grey. I wasn't expecting much as this is more of a tour where tourists get a chance to take selfies with glaciers in the background. However, I was pleasantly surprised to see some glacier formations so closely that I hadn't come across during my hike in 2002, possibly because it is not safe to hike around these jagged edges. This scene looked like something that one would expect to see in fictional movies. The impressive peaks rising against the foreground of glacial spikes (Seracs) was too good of a scene not to go back running inside the boat and pull out the camera to capture it.
New Horizons
This is an evening scene of Patagonia wilderness. In one of my previous posts, I wrote about the tenacity of wind-swept gnarled trees of Patagonia. They have these beautiful shapes and no two trees are alike. This one was overlooking the valley below as if reaching out to new horizons.
Memoirs of a Dream
Here is a dreamy fall scene from Yukon. Those beautiful beams were not planned when I was composing the shot. They appeared from nowhere. There must be a reason why they are called God Beams. They are so transformative. Now, that I look back, I cannot imagine this same scene without these rays. A dreamy place that I will be dreaming for a long time.
Singularity
Floating atmosphere against some of the most beautiful mountain peaks in Yukon.
The Never-never Land
Mt. Fitz Roy at the crack of dawn. As I started shooting before the light came out, it was only as I was processing this image that I realized that I forgot to remove the camera bag from the scene. Can you spot it?
Ballet of Light
My trip to Dolomites was full of moody light and atmosphere. There were days when I would see something that I wanted to capture, but by the time I would reach for the camera or change the lens, the scene would have changed, just like that. The dreamy atmosphere takes over at a fast pace, when you get to see it, and if you don't, just wait for it. It might take days or a minute for the drama to unfold.
Altar of Oblivion
I am always sorting through photographs to free up the space. The goal is to go through them and find the ones that speak to me while deleting the rest. However, with so many great moments captured, it is almost like trying to clean up a room full of old letters and photographs; each one evokes a memory and takes me back to that time, and after spending hours re-living those sweet memories with nostalgia, I decide to keep them all.
The Flight
Imagine setting up your gear waiting for clouds to clear up so you can see Mt. Fitz Roy. Instead, a thick cover of clouds keeps dancing around the peaks resulting in God beams, and then....bam, an Andean Condor flies straight in your frame. I am sure nobody would complain about this photobombing incident. Andean condors are said to be the largest flying birds with wingspan ranging from 8 to 10 ft. It is quite a sight to see these birds soaring against the backdrop of Patagonian mountains.
Unfinished Lines
There are so many "firsts" in our life that we never forget. The first job, the first crush, the first pet, the first time visiting the country we have been dreaming about since childhood, and the first time we see the aurora. That last one is what this photograph is all about. This scene was my first time seeing and capturing aurora. I was a little worried as this was also a full moon night so I didn't know how well I would be able to see the aurora. However, I was wrong. The moon rising behind me lighted up the entire landscape while the aurora kept dancing in the sky. I saw even more spectacular auroras in that same trip in Yukon, but this one was special because this was my first.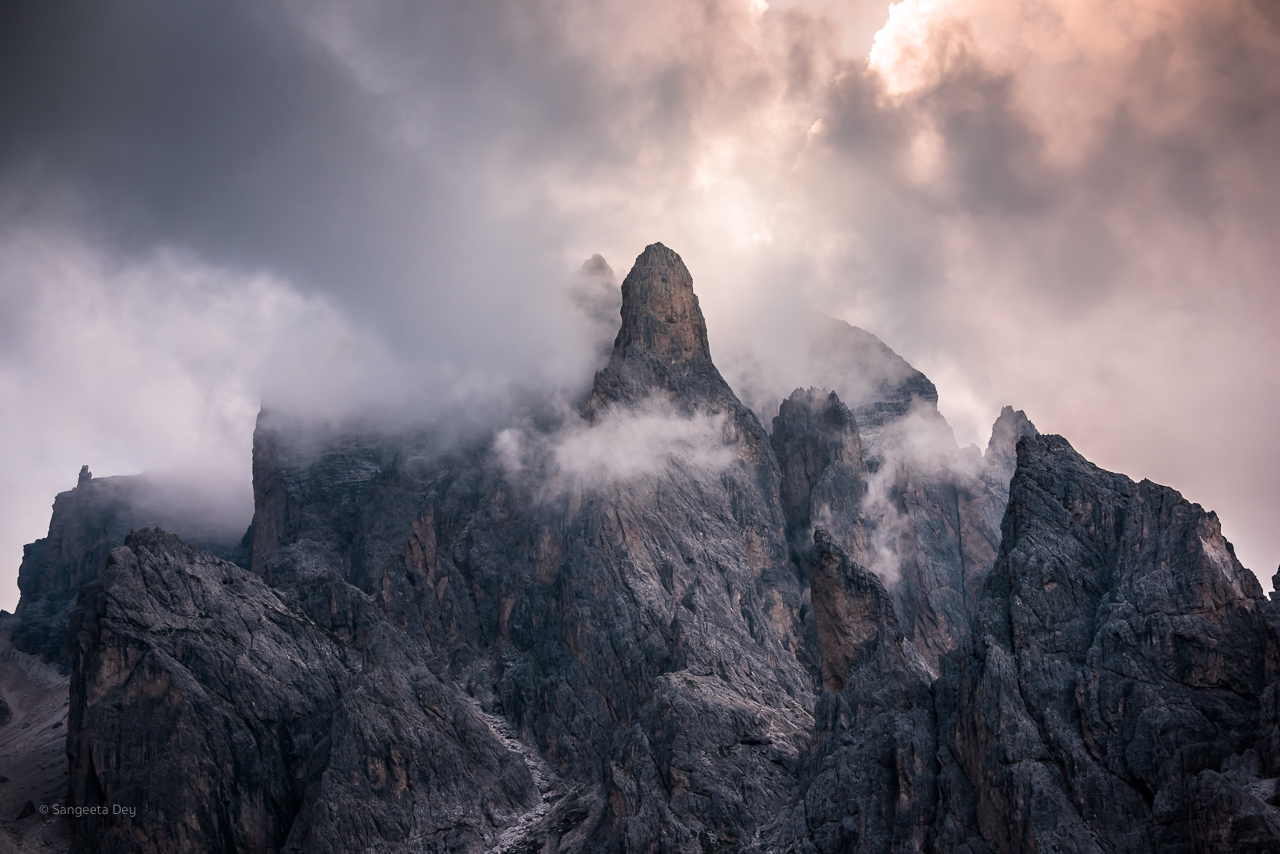 Ephemeral
The photograph here was captured on a moody afternoon in Dolomites.
 
Rendezvous with Light
While driving back home one evening in California, I was struck by the haze all around me. The wild fires in Northern California were creating a major havoc here. Lately, we have been inundated with an endless supply of devastating news. With stories of people losing their homes and loved ones, I have been feeling a little more thankful for what I have in my life. Therefore, decided to re-live a moment that reminds me how grateful I am to be in this beautiful world.
Embers and Ashes
Try as hard as we all might, there are these unique moments in life that are hard to describe, much less capture via a contraption that is limited in its scope. I mean, think about standing in a scene where all you see are these dark gloomy clouds, and then a tiny gap in the cloud allows a ray of that mischievous setting sun to escape and light up a section of these rocky mountains that I didn't even know existed till a few minutes ago. I do have a camera to capture this moment, but what is it going to do? How would it tell my audience what was happening? The wind cooling down, the looming clouds determined to take over the evening, and yet this teeny-tiny ray makes it to the peaks, leaving this humble watcher breathless. Not to mention, the camera's rendition will only translate this dynamic three-dimensional scene into a two-dimensional medium. Yet, here is a humble attempt to present that scene. Hope it gives viewers some idea of what was unfolding.
 
Seijaku
There is a Japanese concept called "Seijaku." It means finding serenity within chaos. The reason I am talking about this is that I travel to beautiful places all over the world, but I avoid going to Yosemite at all costs because of the crowd. However, on my way back from the Sierra recently, I had to drive through Yosemite. As I was already inside the park, I decided to spend an evening there. As suspected, there were people everywhere. I could not have imagined being in any obvious location without interlocking my tripod with hundreds of other photographers. Thanks to a friend, I was able to find this quiet location which I had all to myself. After watching blazing aspens for a few days, I was actually very happy and at peace to find these fallen leaves that I found oddly more beautiful than anything I had seen in the entire trip. Combined with the colors of the setting sunset on El Captain, this was the first time I was able to appreciate this beautiful park, despite the fact that the park was at its full capacity with tourists and visitors. I had found my own Seijaku moment.
The Angel of Patagonia
This was taken during a colorful sunrise. The combination of lenticular clouds overhead and the ethereal glow caused by the rising sun made Mt. Fitz Roy look like an angel.
Reverie
While there are not many women landscape photographers that I get to meet during my photography trips, the ones I did have inspired me to go and tough it out in rough conditions. I am really grateful to have met my tribe of women as mentors, colleagues and fellow friends who have all encouraged me to go that extra mile after what I love. What better way to honor these strong women than post a portrait of a mountain that mimics the same beauty, strength and power that a woman stands for.
Shakti
Shakti is a Sanskrit derivative for feminine energy. It stands for feminine creative power in Hinduism, and is believed to be the cosmic energy that runs through the entire universe. For some reason, every year on the day of InternationalWomen's Day, I tend to post a portrait of a mountain as it seems to capture the same beauty, power, strength, energy and mystery that a woman stands for.
History of Time
As I have been thinking more about the definition of art and what makes an artist, I have been finding that people working in the field of science and art are more alike than different. The biggest factor that differentiates them is that scientists are data driven and their findings are expected to be objective. In contrast, artists work in the medium of subjectivity and are more driven by their emotions. However, that distinction aside, the biggest similarity lies in their "curiosity." Whether science or art, some of the biggest achievements in both fields have been accomplished by those who had the internal drive to ask thoughtful questions, and then have the motivation and passion to go and find answers. By that description, we lost one of the biggest scientists and artists of our time, Stephen Hawking. In his own words, "It's a crazy world out there. Be curious."
Shadows of the Past
Years ago, while I was working as a neurospychology intern in the Behavioral Neurology unit in a hospital affiliated with Harvard Medical School, I had the good fortune of working with some of the best researchers in the field. One of the researches dealt with the study of artistic appreciation in patients with dementia. The study was conducted by providing dementia patientswith various cards depicting paintings from various artists. Thereafter, the patients would be asked to place those cards in order of their preference. This process was repeated with those same patients using same cards over several weeks. The findings of the research demonstrated that the artistic appreciation in patients with dementia does not change over time. Years later, as I embarked on my own journey as an artist, these findings reminded me how integral art is to our lives, and how deep it runs in our psyche so as to remain resistant to memory problems.

Below is an image that was captured on a cloudy day in Dolomites. I have seen some really beautiful photographs from this place with crazy weather conditions. However, on this day, the light was not at its best. I still took a few shots of this place as the scene looked very powerful in itself. I kept looking at this image for months, but didn't do anything with it as the light was not ideal. Over this weekend, I opened the image and it hit me that I was drawn to this scene not because of light or colors, but because of shapes, textures and lines. Besides, how could I have missed that cloud that mimicked the shape of the mountain peak in front of it. That cloud provided a kind of harmony and echoed the scene. So, here is an image that had some of the most commanding components, and yet it took me some 7 months to realize that this one didn't need any colors. This is only March, but I think this might be one of my favorite images from this year, and the one that I would still remember as being my favorite years later when I will have difficulty remembering my own name.
 
Shadow Rising
I find that there is a difference between looking at a scene versus looking at the photograph of the same scene. In the field, when I am attracted to a scene, all my 5 senses are at work. As great as that capture might have been at the time, I have a hard time relating to it in the 2-dimensional medium unless it speaks to me within the current context of my life. There are times when I try to recreate the magic I experienced when standing in front of a scene, but more often than not, it is the state of my mind that dictates the direction of processing. Yesterday, it was heartening to hear students speak up for their rights in CNN's town hall meeting. They were fearless and their emotions were raw and unscripted. This is an image that I had started working on a few weeks ago, but didn't know the direction I wanted to take with it. Hearing the youngsters speak up made all the difference for me.
 
A Matter of Light And Depth
As you might recall, I spent some magical days in the Canadian Yukon last September. Before we took a chopper that dropped us deep in the heart of wilderness, we spent some time driving on the Dempster highway. To say that the fall colors of low-growing Tundra vegetation around the highway was one the most unique things I had seen would be an understatement. The sight of rolling clouds, passing storms, dancing light around the distant peaks, made me pull out my camera at every opportunity. As the days are passing by, the memory of those valley of colors keep beckoning to go back.
"State Of Mind"
Apologies for being away from this page for so long. I came back a couple of days ago, and with the work piling up, had to hit the ground running. The jetlag refuses to go away. Ever had the feeling when you wake up from deep sleep thinking it is morning, and as you are on your way to make coffee and get on with your day, it hits you that something is not right. Well, it is not right because it is 6 PM in the evening and not morning. I don't think there is a word in English dictionary that defines that state of confusion. The jetlag has been playing some mind games with me. I thought of the photograph below as a reflection of my current state. I initially thought this was taken late in the evening with moon rising, and then realized that I didn't actually shoot anything with moon at this location. This was shot early in the morning as the rising sun stayed hidden behind a veil of morning fog with quiet reflections of the entire landscape on still water
"Shadows of Silence"
Getting up early in the morning, stepping out of the tent, and then finding this scene unfolding……very hard to describe that feeling, specially when you realize that you are a few days away from the closest road, and no one can hear you for miles other than a couple of other photographers who are just as lost in the scene. This place is so remote and quiet that you can almost hear a flower bloom. Solitude and silence is what attracts me to wilderness. Given how noisy our world has become, it is the gift of these quiet moments that we can give to ourselves.
"Awaiting Oblivion"
After a long time, I am going back to a scene from Patagonia. That place is like a temple in my mind. Just thinking about the play of light and atmosphere against those spectacular peaks, gives me the same sense of calm and contentment that people achieve via meditation.
"Winter's Fire"
Firefall 2019: Let the Fire Fall!, Shot this on Feb 11th, 2019. The Firefall season has arrived in Yosemite, This is the Horse tail waterfall in the Yosemite National Park. Every year for a few days in February, the sun sets at a certain angle and illuminates the waterfall in luminescent orange and red, making it look like a molten lava.
For a full trip report and more information, please go the blog post: https://www.sangeetadeyphotography.com/blog
"Winter's Fire": Firefall 2019
Let the Fire Fall!, Shot this on Feb 11th, 2019. The Firefall season has arrived in Yosemite, This is the Horse tail waterfall in the Yosemite National Park. Every year for a few days in February, the sun sets at a certain angle and illuminates the waterfall in luminescent orange and red, making it look like a molten lava.
For a full trip report and more information, please go the blog post: https://www.sangeetadeyphotography.com/blog
"Winter's Fire"
FireFall 2019: Let the Fire Fall!, Shot this on Feb 11th, 2019. The Firefall season has arrived in Yosemite, This is the Horse tail waterfall in the Yosemite National Park. Every year for a few days in February, the sun sets at a certain angle and illuminates the waterfall in luminescent orange and red, making it look like a molten lava.
For a full trip report and more information, please go the blog post: https://www.sangeetadeyphotography.com/blog
#Firefall #Firefall2019